I don't even want to be in the house at all today.... because, it's SO nice out today! So I worked some, and then the dogs and I went for a long walk!
Everyone will be sick of seeing pictures of my flowers before the summer is over, but I just LOVE being able to be home to enjoy them! Working from home suites me fine.
I can work awhile and then take the dogs out and sit on the porch for a while. With all the rainy days we've had lately... I'm ready to enjoy the sunshine!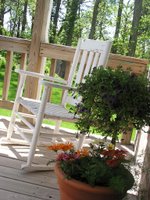 I love it out here, it's so quiet, and there is so much wildlife. If I have my way, I will always live in the country. ( as long as there is good shopping within an hour) LOL!
Here's some of my Lily of the Valley. "My Own"! ( not what's growning in the ditch). My sweet friend Liz gave me this last year...and it's off to a good start.
Well, I enjoyed the day, took a walk, played with the pups, but now ...it's back to work. Just wanted to share a little bit of my day! Hope yours was just as perfect!