Brenda
You are the winner of this weeks giveaway! Congrats!! Hope you enjoy the goodies. Please email me your address and I'll get your little bunch of fun sent your way")
For those of you who didn't win... next week you'll have another chance!
******************************************************************
This is going to be a short post, since I'm working from my laptop while trying to get my new computer up and running.
Yes.... new computer
. You know what that means?? My computer died, and I had no choice but to go computer shopping. Luckily Weston ( oldest ds) is helping his old momma out. He found
me one (
on sale even
) yay... and is coming here this weekend to help me get it set up. So hopefully I'll be back in the swing of things soon. Until then I thought I'd share these cards I did with
Fancy Pants "Be You" line

.
I have them all up on the
Scrapbook Adhesives by 3L
blog, to show you some fun ways to use your adhesives. I'd love it if you'd pop over to the
Crafty Power blog
and check it out. While you're there you
can see all the great projects from the Design Team.
.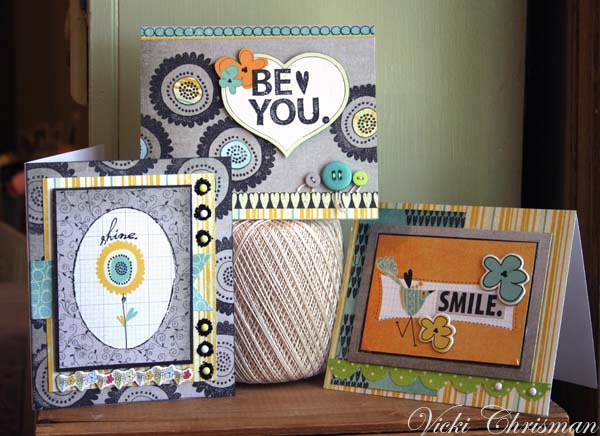 Hang in there with me kids, I'll be up and running again in a day or so ( fingers crossed).
Thanks friends! Vicki